Join or Renew your Gray Wolf Ski Club Membership by August 15th to receive Wolf Creek Ski Area season pass discounts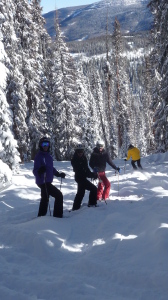 We invite you to join our social ski club and enjoy club activities, including discount tickets at Wolf Creek Ski Area for those over the age of 50…
A Gray Wolf membership runs from September 1 to August 15. Our membership drive begins on April 15th of each year.  All membership dues must be received by August 15th each year to be eligible for the Gray Wolf pre-season ski pass discounts. The list of our qualifying members is then sent to the Wolf Creek Ski Area.  NO EXCEPTIONS – get your dues in early.
Membership is $15.00 per person
Members who have been Gray Wolf Ski Club members for the previous 3 or more consecutive years as they turn 80 years of age or older can apply for their membership at no annual charge however they must renew membership as Life time members each year.
Name tags are $12.00 and should be worn during social outings. An order is placed for nametags on September 1st so we can purchase in bulk to reduce the price. They will be mailed to all who ordered them before the ski season. Make sure to order yours by August 15th.
Please print clearly all your information on the application form. When filling out the form below, please print your name the way it should appear on your name tag.
Click Here for the online form
Click here to download PDF Application