Join or Renew your Gray Wolf Ski Club Membership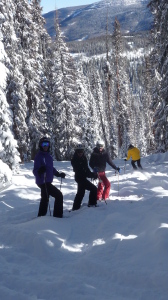 We invite you to join our social ski club and enjoy club activities.
A Gray Wolf membership runs from September 1 to August 15. Our membership drive begins on April 15th of each year.  All membership dues must be received by August 15th each year for the upcoming ski season.

Please read Wolf Creek Ski Area policy change
Wolf Creek Ski Area Policy change below regarding Gray Wolf Ski Club members, ages 50-64, and season pass discounts.
After reviewing the Season Pass Program for the 2022-2023 winter season; the Board of Directors for the Wolf Creek Ski Area has determined that since the Gray Wolf II members, ages 50 to 64, many are not of retirement age, the program will not be offered to new members after the 2023-2024 ski season. The intent of the Gray Wolf program was to encourage retirees to meet at the mountain socially and ski together as a club. We realize the biggest impact is on the 50 to 64 age group, which was originally set up for the spouses of the older age group. Members of the Gray Wolf Ski Club who are 50 to 64 years old and who purchase a Gray Wolf II pass will be grandfathered into the program and can continue to purchase a Gray Wolf II pass until they turn 65. A Gray Wolf II season pass must be purchased each season to be eligible for the next along with a Gray Wolf Ski Club renewal membership. If a member doesn't purchase a pass or purchases a different type of pass they are no longer eligible for the Gray Wolf II pass for future seasons.

Gray Wolf Ski Club members over 65 years who join or renew by August 15th each year will continue to be eligible for a Gray Wolf I season ski pass.
The list of our qualifying members is then sent to the Wolf Creek Ski Area.  NO EXCEPTIONS – get your dues in early.
Membership is $15.00 per person
Members who have been Gray Wolf Ski Club members for the previous 3 or more consecutive years as they turn 80 years of age or older can apply for their membership at no annual charge however they must renew membership as Life time members each year.
Name tags are $12.00 and should be worn during social outings. An order is placed for nametags on September 1st so we can purchase in bulk to reduce the price. They will be mailed to all who ordered them before the ski season. Make sure to order yours by August 15th.
Please print clearly all your information on the application form. When filling out the form below, please print your name the way it should appear on your name tag.
Click Here for the online form
Click here to download PDF Application